Holiday Celebrations at Venue 622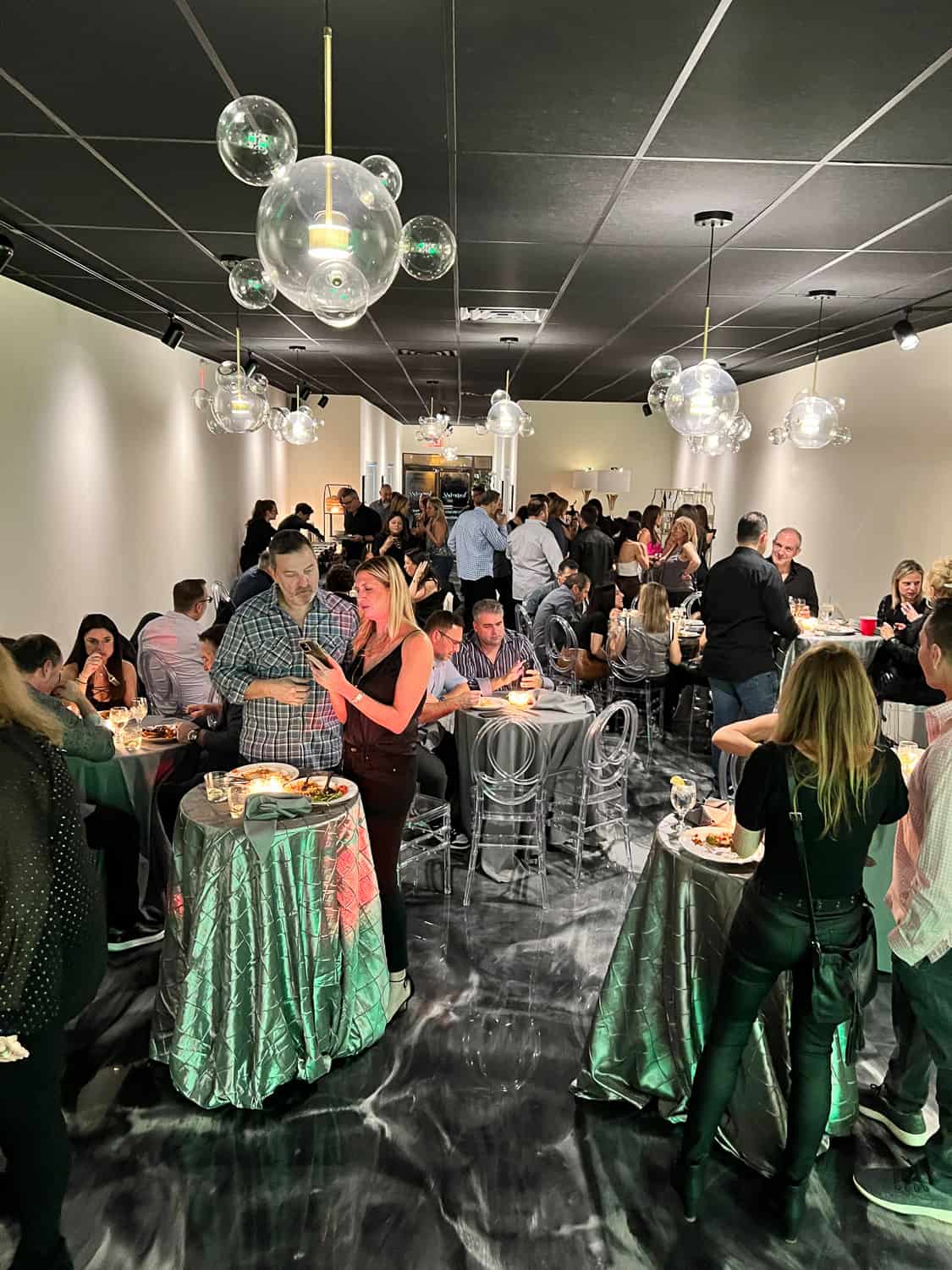 Planning a Holiday Party?
Our all-inclusive packages make it easy

At Venue 622, we believe planning a special event should be as stress-free as celebrating it. That's why we are pleased to offer our all-inclusive party packages, designed to take the hassle out of organizing your holiday gathering.
With our all-inclusive option, you can book your event at a fixed per-person price. Our packages cover every aspect of your event, from exquisite catering to elegant decor and professional staff to ensure your event runs smoothly.
Imagine a hassle-free experience where you can choose from a variety of mouthwatering menu options, customized to suit your taste, that will leave your guests raving. Our talented event planners will work closely with you to bring your vision to life, offering a wide range of customizable options to make your event truly unique.
Venue 622's all-inclusive party packages provide an unbeatable value. You can relax and enjoy your event, knowing that every detail is covered. Book your event at Venue 622 today, and let's create unforgettable memories together.



Venue Rental



Gourmet Cuisine from Michelle's Catering



Dedicated Wait Staff



Round Tables, Hi-Tops & Acrylic Chairs



Choice of Upscale Linens & Napkins



China, Cutlery & Glassware



Holiday-Themed Decor



Yamaha Baby Grand Piano



Surround Sound System & Wifi



Plentiful On-Site Parking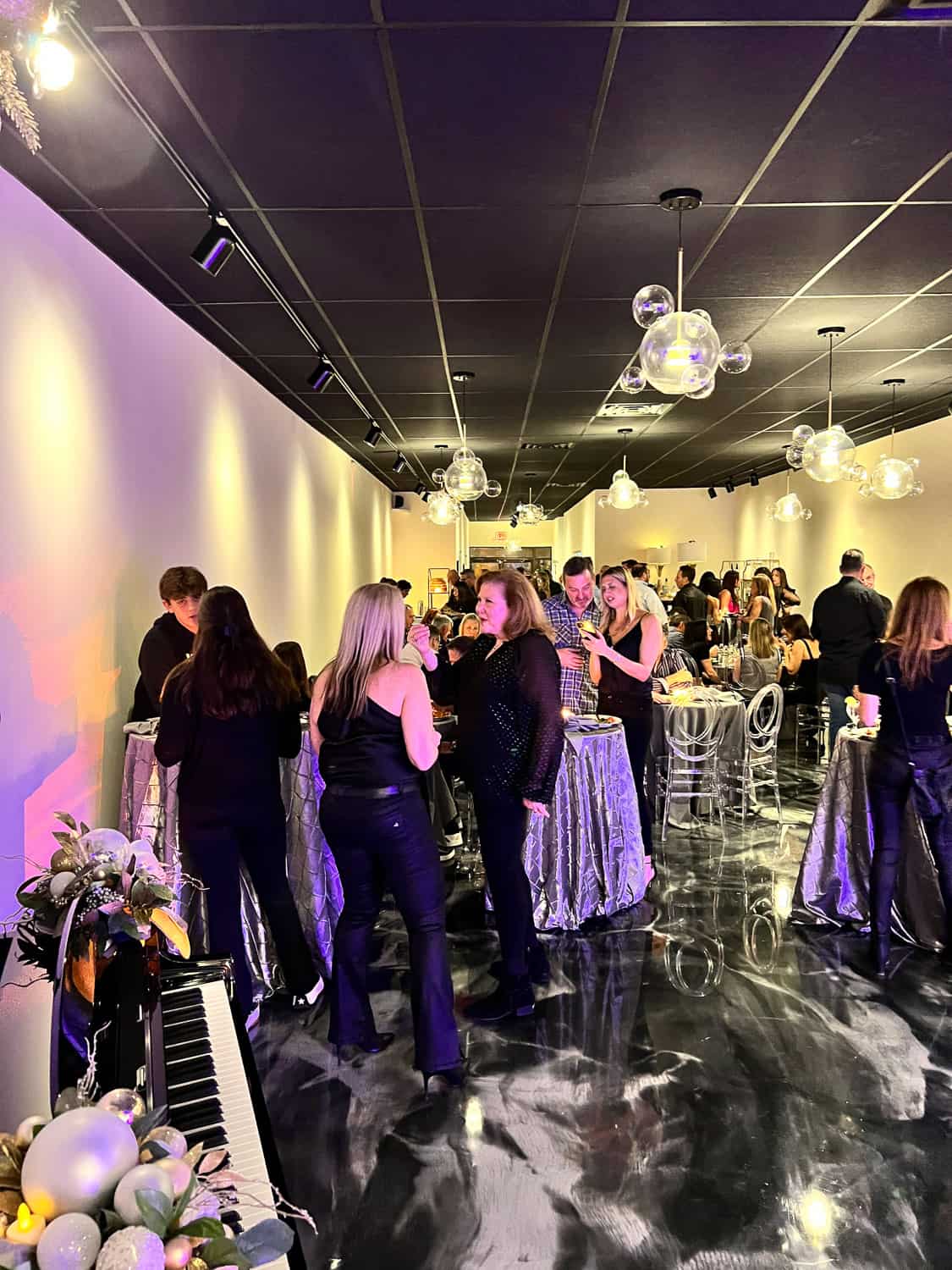 2023 Holiday Party Packages

Grazing Station
Artisan Cheese, Mozzarella, Tomato and Olive Wreath
Pomegranate Salad with Shaved Parmesan & Fig Glaze
Assorted Mini Sandwiches
Grilled Chicken, Roasted Pepper, Mozzarella Focaccia Triangles -Balsamic and Herb
Grilled Eggplant, Zucchini, and Yellow Squash Wrap
Grilled Shrimp over Mediterranean Quinoa, Feta Cheese, Cucumber, Calamata Olives, Red Onion and Lemon Dressing
Dessert (select two)
Mini Cannoli
Peppermint Cheesecake Dessert Shots
Red Velvet Cookies
Chocolate Chunk Cookies
Lemon Bars
Custom Cookies available at an additional charge
Stationary Hors d'oeuvres
Mediterranean Dips and Feta with Grilled Pesto Steak Skewers
Homemade Pomegranate Guacamole with Tortilla Chips
Colossal Shrimp with Lemon and Cocktail Sauce
Hot Buffet
Fancy Mesclun Greens with Sundried Cranberries, Mandarin Oranges, Glazed Pecans and Gorgonzola – Balsamic Vinaigrette
Grilled Chicken Bruschetta
Baked Salmon with Champagne Lemon Caper Butter
Rosemary Potato Wedges
Roasted Seasonal Vegetable
Dessert
Mini Holiday Cannoli
Lemon Bars
Peppermint Cheesecake Mousse Dessert Shots
 Grazing Station
Artisan Cheeses and Imported Salumi' with Crackers and Flatbreads
Colossal Shrimp with Lemon and Cocktail Sauce
Antipasto Skewers
Homemade Guacamole & Corn Artichoke Salsa with Tortilla Chips
Passed Hors d 'Oeuvres
Brie and Raspberry Beggars Purse
Peking Duck Spring Rolls
Beef Wellington
Mini Maryland Crabcakes
Vegetable Empanada
Tuna Ponzu Poke Spoon
Black Angus Cheeseburger Sliders
Chicken Sausage, Pepper and Onion Skewer
Dessert Table
Warm Chocolate Chunk Cookies
Fresh Berry Bowl
Apple Strudel Tartlet
Milkshake Martini "BYOC"
Salted Caramel Cheesecake Mousse Dessert Shots
Chef's Carving Station
Roasted Pork Tenderloin $8 pp
Local Fruit Chutney and Corn Bread
Brown Sugar Glazed Bone-In Roasted Ham $8 pp
Turkey Breast $10 pp
Gourmet Mustard, Turkey Gravy, Cranberry Chutney & Buttermilk Biscuits
Grilled Beef Tenderloin $15 pp
Horseradish Cream, Gourmet Mustards, Smoked Rosemary & Pretzel Rolls
Slow Roasted Prime Rib $10 pp
Truffle Horseradish Crème, Rosemary and Jus, Sea Salt and Caraway Crescent 
Deluxe Dry Ice Seafood Buffet
Jumbo Shrimp, Shucked Seasonal Clams, Seasonal Oysters, Lobster Salad with Rolls, Mignonette, Classic Cocktail Sauce, Dijon Aioli, Lemon & "Absolute" Peppar.  Market Price
Slider Bar
NY Strip
Short Rib
Cheeseburger
Pulled Pork
Cuban
Crabcake
Fried Chicken
Chef Sauces, Toppings and rolls based on selection.  Select 4. $18 per guest
*Beverages, sales tax, and optional gratuity are additional.  Minimum guest count applies.
Start planning your event at Venue 622
Whether you envision an intimate wedding celebration, a corporate event that makes a statement, or a special occasion that deserves the finest attention, Venue 622 is here to turn your dreams into reality. Our impeccable decor, unmatched services, and delectable cuisine come together to create an extraordinary experience that you and your guests will cherish forever.
Contact us today to reserve your date and embark on a journey to create unforgettable memories at Whippany's premier event venue.